Enrollment
Welcome to Rainbow Montessori House Phuket at Chaofa Villa 2 with Aid to Life Nursery and Pre-School!
By enrolling your child here, you are entering into an agreement with us to ensure the best possible educational experience for your family. We agree to provide a high quality Montessori education. You agree to be continually involved in your child's life and learning, to participate in parent orientation and education, and to satisfy all financial obligations set forth herein in a timely manner.
Curriculum
The Montessori Curriculum offers children five key areas of study: Practical Life, Sensorial, Mathematics, Language, and Culture. Each learning area is made up of a set of Montessori materials that each teach one key knowledge area or skill. Through repetition and practice, children develop a foundational understanding of each material, and master the core competencies within each curriculum area.
Programs
Montessori education involves free activity within a "prepared environment", meaning an educational environment tailored to basic human characteristics, to the specific characteristics of children at different ages, and to the individual personalities of each child. The function of the environment is to help and allow the child to develop independence in all areas according to his or her inner psychological directives.
Welcome to our Brand-New Montessori Preschool Kindergarten,
located very close to Phuket Town and
not far from Central Festival shopping center.**
Rainbow Montessori House Phuket is an international early learning Preschool and Nursery from ages 1 to 6. This is a great opportunity to immerse your children into the English language at an early age, giving them the greatest opportunity for later in life. Montessori is a method of education that is based on self-directed activity, hands-on learning and collaborative play. In Montessori classrooms children make creative choices in their learning, while the classroom and the trained teachers offer age-appropriate activities to guide the process. The education in our kindergarten is primarily in English however there is Thai lessons within the curriculum.
เรนโบว์ มอนเตสซอรี่ เฮาส์ ภูเก็ต คือโรงเรียนอนุบาลและเนอสเซอรี่ระดับปฐมวัยระดับนานาชาติสำหรับอายุ 1 ถึง 6 ปี นี่เป็นโอกาสที่ดีที่จะให้บุตรหลานของท่านได้ซึมซับภาษาอังกฤษตั้งแต่อายุยังน้อย ทำให้พวกเขามีโอกาสที่ดีที่สุดสำหรับชีวิตต่อไปในภายภาคหน้า มอนเตสซอรี่เป็นแนวทางการเรียนรู้ผ่านการลงมือทำจริง ในห้องเรียนมอนเตสซอรี่ เด็กๆ จะมีอิสรภาพ ในการสร้างสรรค์ทางเลือกในการเรียนรู้ โดยมีคุณครูที่ผ่านการฝึกอบรมจะจัดกิจกรรมที่เหมาะสมกับวัยเพื่อให้เด็กๆมีความรู้ ความเข้าใจที่เกิดขึ้นจากตัวเด็กเองอย่างแท้จริง การศึกษาจะเป็นภาษาอังกฤษ อย่างไรก็ตามจะมีบทเรียนหลักสูตรไทยรวมอยู่ด้วย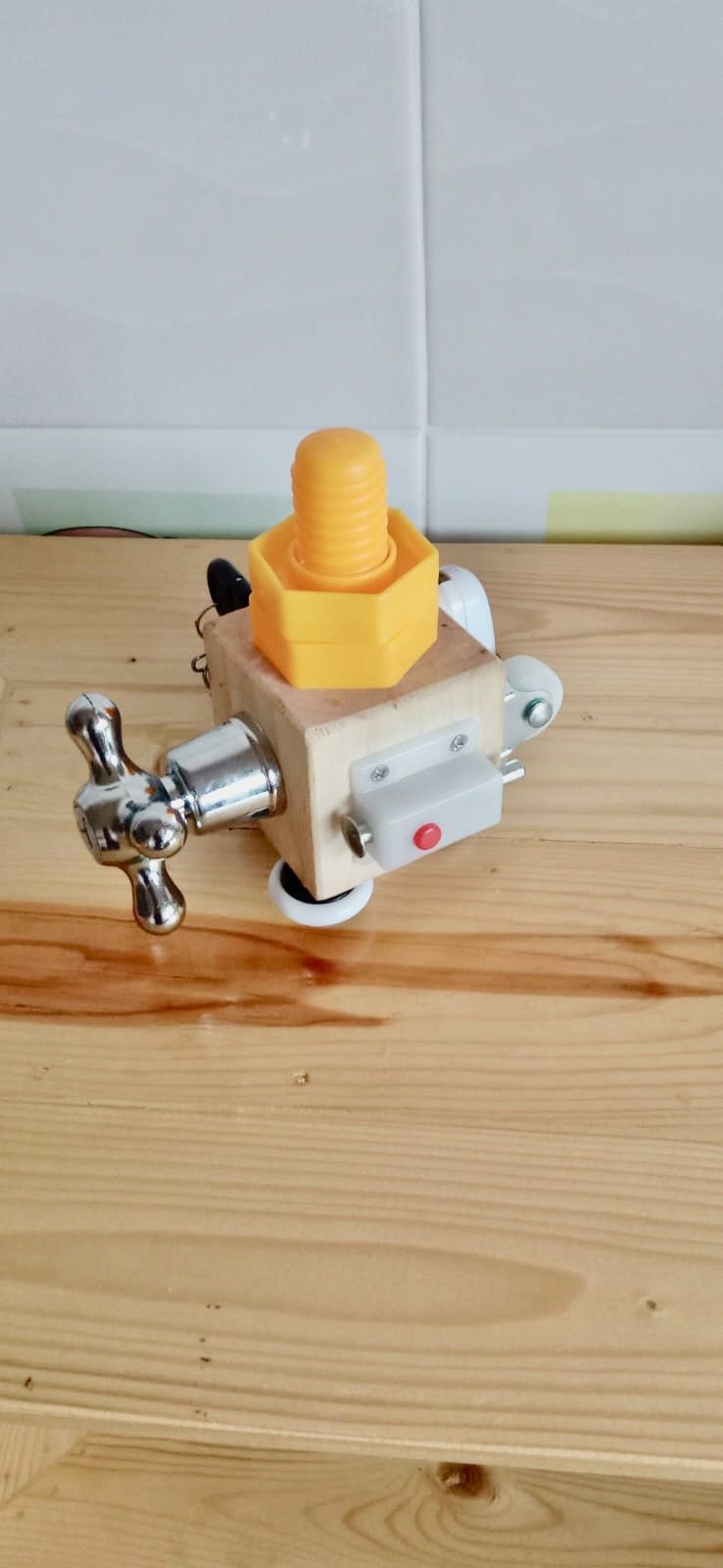 Our toddler has been attending Rainbow Montessori Kindergarten since it was founded and we grew up together. Saying goodbye, we cried, because the Rainbow became our second home. This is a wonderful place where children are given maximum attention and care. During the...
read more
Observing our classes in a session is the best way to understand the Montessori Method. Rainbow Montessori House Phuket is an International Authentic and Affordable Montessori Pre-School in Phuket Chaofa Villa 2 opposite Dibuk Clinic and King Power with a certified Montessori Guide. We have special observation rooms from which visitors can observe classes. We strongly encourage interested parents to visit the school before applying. Our Staff will make every effort to answer questions.
Our Pre-School. Our Family. Our Community
Montessori is a unique educational method that fosters a child's intrinsic desire to learn. At Rainbow Montessori House Phuket, your child will learn to participate in a community of self-directed learners and creative thinkers, and use his/her own mind to solve problems. Our educational approach focuses on the whole child – cognitive, social, emotional, and physical development. At Rainbow Montessori, we give children the language and structure to nurture their independence, confidence, and creativity.
We invite you to explore our website and learn why Rainbow Montessori House Phuket is the place to foster your child's love of learning. If our school seems like a good fit for your child and family, please contact us to set up a virtual visit.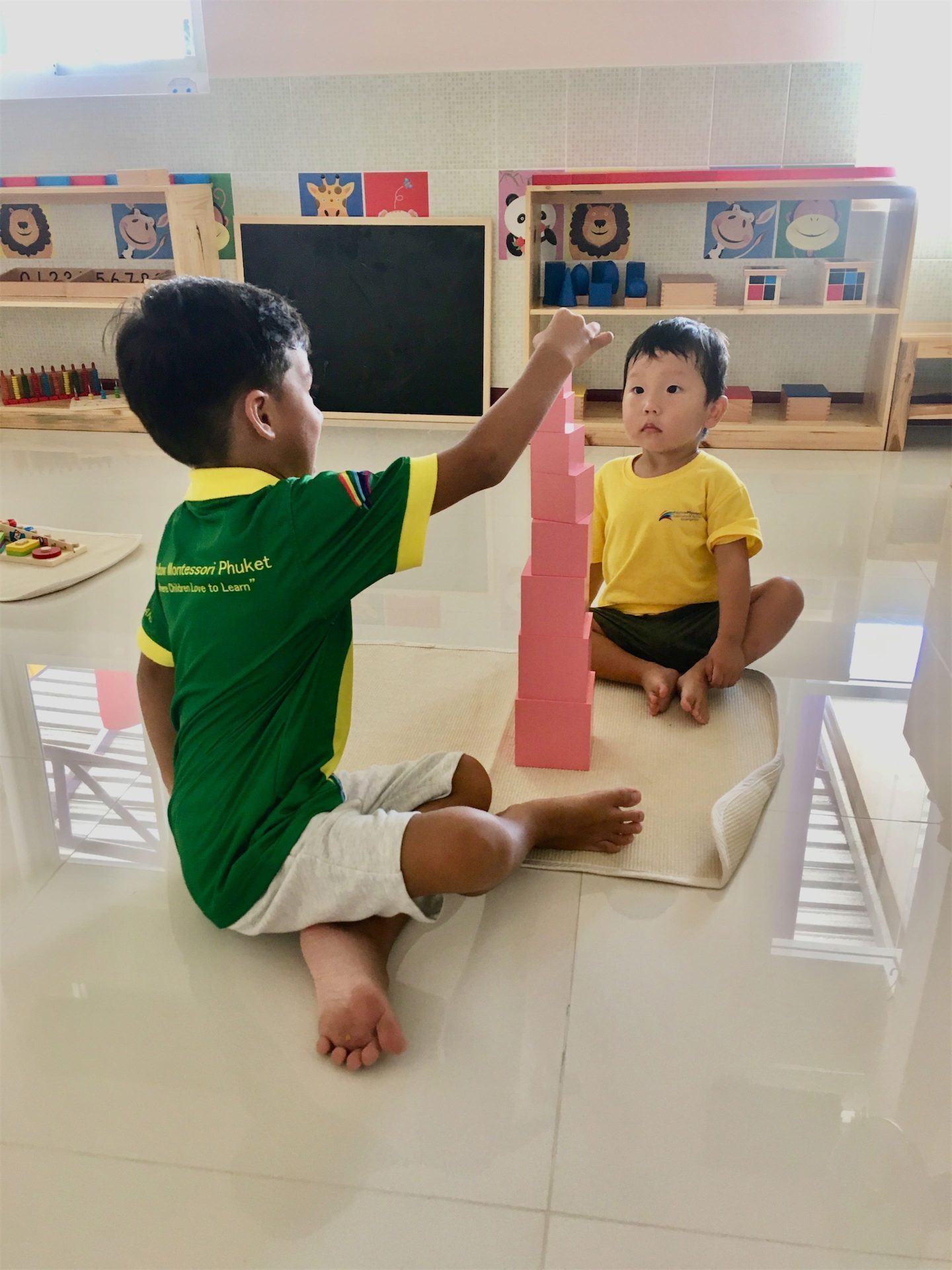 Reading/Writing
Children in a Montessori environment learn to write first, before they learn to read.
This approach is organic, as children are able to put the letters for the sounds they know together into a word before they are ready to interpret and string together the sounds of a word on a page.
Math/Science
The Montessori Math includes the development of concepts such as numeration, place value, fractions, and the basic operations of addition, subtraction, multiplication, and division using numbers up to 9999.
Maria Montessori believed that people are naturally inclined to create order, to organize, to observe relationships and quantify patterns. With the proper guidance and nurturing, everyone can develop the ability to reason and to calculate.
Art
Art is one of the many ways children express themselves. Art is a way for children to communicate their feelings. It is through art that children develop their fine motor skills. In the Montessori environment, we provide open-ended art activities that help children explore and use their creativity.
"If we try to think back to the dim and distant past... what is it that helps us reconstruct those times, and to picture the lives of those who lived in them? It is their art... It is thanks to the hand, the companion of the mind, that civilization has arisen."
—Maria Montessori, The Absorbent Mind
Critical Thinking
The Montessori environment promotes problem-solving and critical thinking skills in a variety of ways. With each piece of material that is presented to the child, there are problem-solving skills that are required to master the work.
Within each material, there is an underlying problem-solving skill also known as the control of error. The control of error is the point when a child acknowledges the fact they have done something wrong when working with the materials. They then must go back, deconstruct the work, and see where they made a mistake. This control of error allows for problem-solving skills and critical thinking skills to work together as a whole.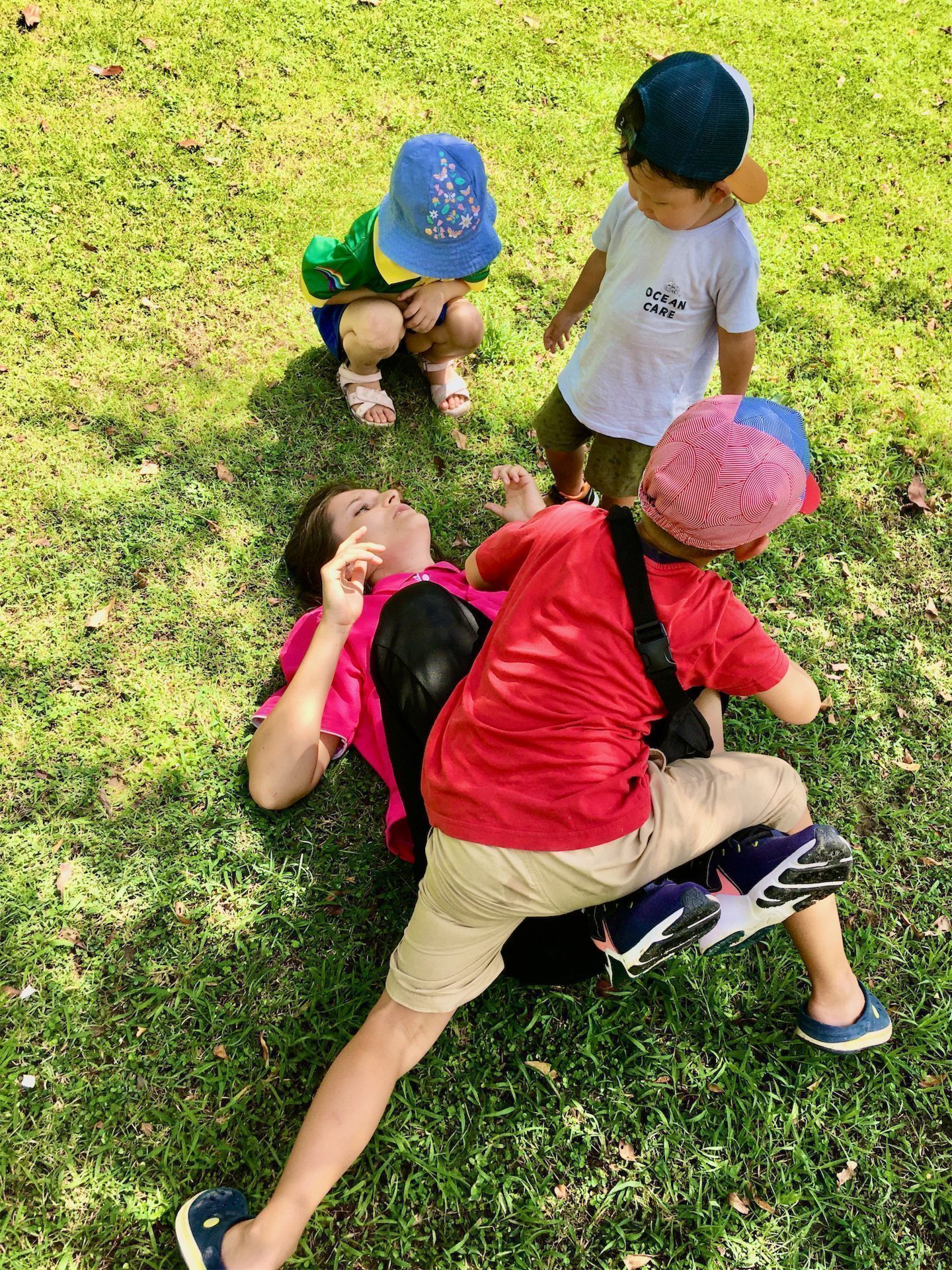 What is Montessori pedagogy?
Montessori pedagogy is an educational concept developed by Maria Montessori from 1907, which includes the development space from small children to young adults. It is based on the image of the child as the "master builder of himself" and therefore uses the form of free work. There is no ready-made plan. The observation of the child by the educators means that each child is offered the right materials and activities for the respective development step at the right time in order to optimally support the development process. The basic idea of Montessori pedagogy is: "Help me to do it myself. Help me to think it myself. Help me to be myself."
Who is Montessori Education for?
Montessori pedagogy is aimed at all children and parents for whom it is important that their child is individually encouraged and challenged in the learning process at their own pace. It is for parents who want their child to be accompanied by attentive and committed teachers.
What is the "House of the Children"?
Maria Montessori coined the term "Casa dei Bambini", i.e. "House of the Children". Here it includes all areas for 1-6 year old children and is divided into two areas: In the "Children's House" the 3-6 year old children move around, in the "Toddler Community" there are children from 1-3 years old.
Do parents have to have knowledge of Montessori pedagogy?
We really appreciate it when parents get to grips with the basic principles of Montessori pedagogy, trustingly accompany their children on their way and thus support their development. You can gather impressions and information about the work in our institution at open house days or information meetings. In addition, there is the possibility of observing with us. A job shadowing always includes a follow-up discussion in which you can ask your questions.
What is the Prepared Environment?
One of the main tasks of the adults in the children's home is to create the Prepared Environment. The aim is to design the premises in such a way that the children can move around as independently as possible and cope with their everyday life. This also means that the furniture and objects that the children work with are appropriately sized. The rooms are designed in such a way that the children feel comfortable and that orientation is easy for them. The material is offered on open shelves and everything has its place. The material offered offers the child the opportunity to deal with various areas of development (e.g. exercises in everyday life, training of the senses, language, mathematics).
How are the rooms equipped?
All the materials that encourage the child to work independently are available in the rooms of the children's house. The so-called "Prepared Environment" offers working materials developed primarily by Maria Montessori. They enable the children to literally "grasp" abstract learning objects. Another focus of the prepared environment is the exercises of everyday life, with the help of which the children can practice everyday activities and ultimately carry them out themselves.
What Maria Montessori says:
Maria Montessori says: "The hand is the instrument of intelligence. The child needs to manipulate objects and to gain experience by touching and handling." Phuket Rainbow Montessori School provides the authentic Montessori Environment to help the child to develop.
Maria Montessori says: "Free the child's potential and you will transform him into the world." At Phuket Rainbow Montessori School children find qualified Montessori guides that let the child be the Master of themselves.
Maria Montessori says: "The greatest gifts we can give our children are the roots of responsibility and the wings of independence." Phuket Rainbow Montessori School provides the save prepared environment to develop those greatest gifts that let children soar and thrive.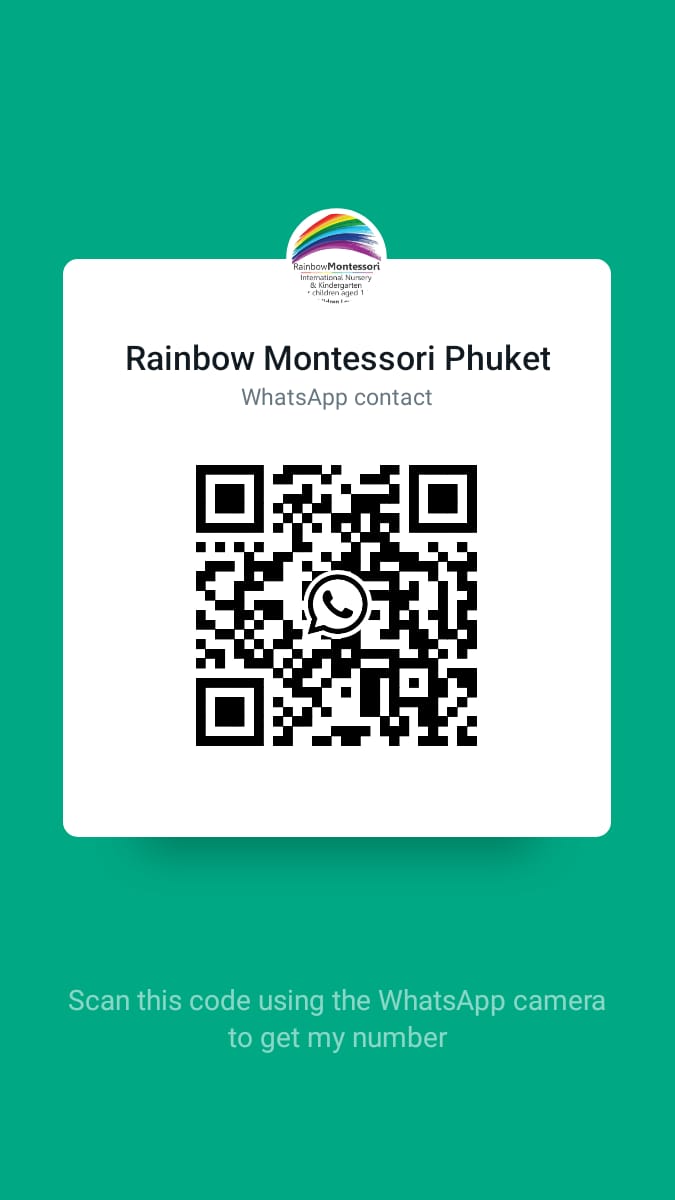 Rainbow Montessori Phuket
LineApp contact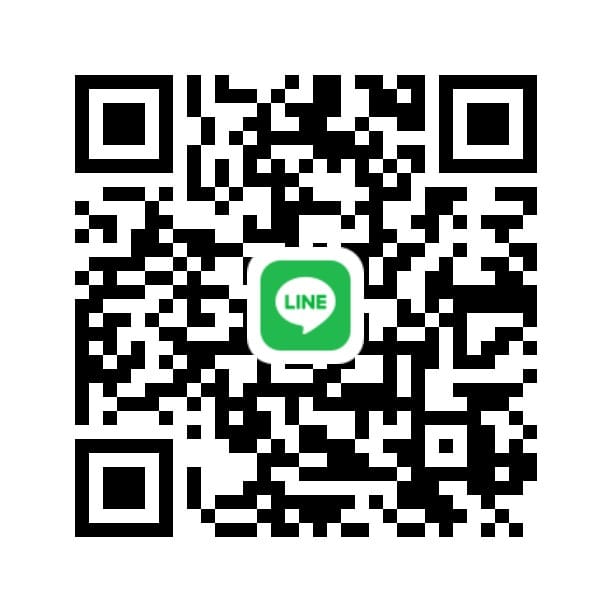 Scan this code using the LineApp camera to get my account